Update
posted Nov 04 2007 · No Comments
It's Sunday night on November the 4th, which means two things: one, that it's my fourth day in my new home; and two, that my new web site (www.simonspire.com) will be launched tomorrow. And on that note, I want to give a short update on some developments over the past few months, since I last posted a blog.
My last blog was written on the way to New York City, which is now the city I call home. While there with Lenedra, I met with Ron Shapiro, Linda Ferrando, and Patti Conte – a wonderful team of people with years of experience in the music industry, based here in the city.
A couple of decisions with far-reaching consequences were made during the week: for me to move from LA to New York, and to release my CD, All or Nothing, late 2007/early 2008. And here I am – almost four months later – newly moved into an apartment here in Manhattan, and beginning the mixing on the album.
It's funny: one would probably expect mixing the album to be the more difficult of those two tasks. In this case, it would appear otherwise. To cut a long story short, I was scheduled to move into my apartment on September 22nd. On September 21st, it all fell apart, and it took this long – and a huge amount of effort and humbling favors from a handful of saintly people to whom I am forever indebted – to put it all back together again…hence my moving-in on November 1st.
The mixing on the other hand – oh yeah, it's rockin! You may or may not know that I had already posted versions of the songs from this album a few months ago on MySpace and even printed some CDs with an older graphic. Well, now is the time for the REAL album to be unleashed…almost. I was in the San Juan Islands in August for a little more recording, and after exploring the options for having the album mixed, I am over the moon to have Mike Barbiero (Maroon 5, Guns N Roses, Counting Crows, Soundgarden, Madonna and others) beginning work on the CD this week!
I'm very excited about how the album is going to turn out. Maybe I'll post a song or two as they come out of Mike's studio…but, then again, I might wait until they're mastered. Either way, I'll have the songs up before the hard copies are pressed, so stay tuned for updates on music and life for kiwis in New York (I am even less prepared than Bret and Jemaine of "Flight of the Conchords": trying to work out how to wrap my scarf around my neck yesterday was a challenge. Come on, it's not that simple).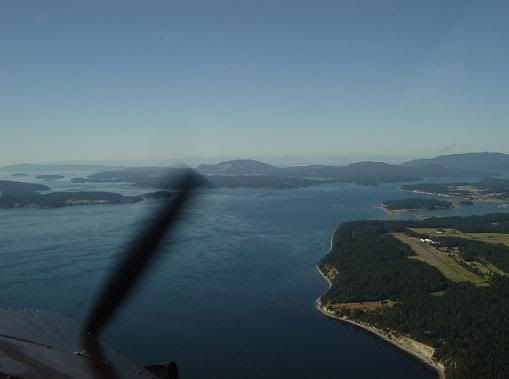 Above: San Juan Islands


Above: Manhattan