From seat 31J
posted Jul 11 2007 · No Comments
I'm sitting in 31J en route to JFK airport (I'll be in New York for a week) and doing my best to angle my body in such a way that allows me to type while not waking the guy next to me (people can look so amusing, or innocent if I'm going to be nice about it, when they're sleeping in an upright position, can't they?) and, much more importantly, preventing the left side of my body from cramping.
Here's a photo (farewell LA):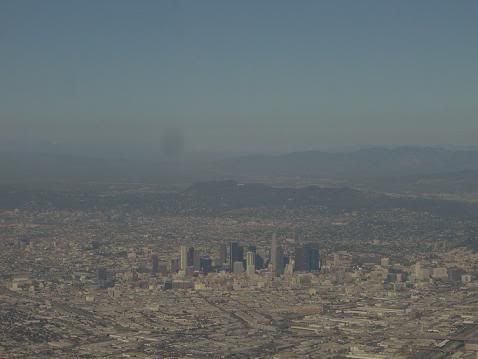 I always go for the window seat. Mainly for the relative peace of not having people climb over me throughout the flight and protecting my precious elbows, or drooping head if I manage to sleep, from those food carts. On a cross-country flight such as this one (from LA to New York) it has the added bonus of offering stunning views. Not right now, though – they told me earlier to close the shade to enable people to view the movie more easily. I can't tell what it is but it has plenty of children, a teacher and I would guess is a family/comedy movie that appeals to both parents and children. I am neither.
And, speaking of movies, I was so impressed by 'Peaceful Warrior', which I believe was just released on DVD. Not that it could ever do justice to the book (Dan Millman's 'Way of the Peaceful Warrior') – the book is infinitely better – but I was surprised by how many of the book's ideas were integrated into a story that flowed with vivid characters, especially given how difficult it must be to reduce pages of understanding into one-liners. I really think the movie came together well.
Getting back to window seats, even the flight from LA to New Zealand, entirely over the Pacific Ocean, offers priceless views. Usually of the clouds but, on my recent short trip back home, I was lucky enough to have the full moon staring right back at me atop a bed of clouds. Sublime. Here's a random photo from New Zealand (it's Louis! (pronounced lu-ee):
While there, a friend currently residing in Melbourne, Australia, asked me to locate an old photograph. I searched everywhere and found many photos, though not the one in question (I tried Garett, I really did). During the course of my archaeological dig through my life's mementos, I did however come across a letter from a friend whom I lost contact with nine years ago. Strange how people who have had a profound impact on our lives can disappear abruptly and now, courtesy of the email address I found on the letter, reappear just as unexpectedly! Today, more than ever, it is certainly a small world after all.
Last part of this blog entry – I promise. I also recently made a road-trip to Idaho and even performed at the Snake-Bite (check it out if you're in town). Idaho Falls, to be precise, hence the dynamic water in this video. Take care and enjoy the summer! (or winter for Southern Hemisphere-dwellers).