Barely Legal
posted Apr 25 2007 · No Comments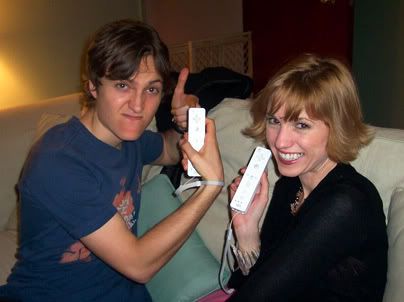 Photo: This is my take-no-prisoners bowling face. My friend Tarah's is still in the developmental stage. Photo courtesy of Sarah Blackwell
What a night. Have you ever tasted the sublime delight of the Nintendo Wii? Well neither had I, until tonight. And like a victim of the vampire's fangs, I can never be the same. Quite possibly, I will never see sunlight again either, destined to spend the rest of my life confined to my friends' living room.
A group of us converged on their dwelling to celebrate an appearance, with dialogue, on Boston Legal. Congratulations Kimberly!!! Very exciting. The first surprise of the evening was that I had misunderstood the show's title to be Barely Legal. Not having seen either show, I was a little confused as to what exactly we would be watching, and wondered if Massachusetts had legalized some of the moves made famous by Barely Legal. Again, I haven't seen it, this is purely speculation.
To my relief, William Shatner kept his clothes on for the duration of the episode. He did, however, seem preoccupied with The Secret. It's great to see valuable knowledge being disseminated to such an extent. Though, I couldn't help but think that Shatner's character illustrated an important point, given his eventual disillusionment with his efforts. Leaving the operation of the Law of Attraction aside for a moment, because this is something that each person can explore and evaluate for him- or herself, I think the way that Shatner became wholly absorbed in the reality he was creating, distracted from his present experience and basing his wellbeing on the manifestation of a particular situation is a worthwhile caution for those of us who might get a little carried away with our creative powers. My two New Zealand cents' worth (only about 1.4 U.S. cents) is that any state of wellbeing that's based on positive thoughts (those used to bring about the desired situation) or on positive situations (when the situation eventuates) is ultimately a fragile one because that wellbeing is based on one polarity of a positive/negative duality. Don't get me wrong, I think we need to be aware of the effect we have on our reality, and I think it's great and it's natural for us to dream and create and to enjoy the desire inherent in creating. But to hold on to thoughts and feelings as our basis for wellbeing, when true wellbeing is available independent of the thought-generated passing states of mind, is a recipe for frustration.
Yeah, okay, whatever, back to more important things, like Nintendo. So, I hadn't played Wii before, but on entering the apartment I saw my friend the A-man setting up a profile for each of the new arrivals in the lead-up to the screening of the episode. He stared at me, then back at the screen, then back to me again while he created my profile's picture. I'm still offended by his representation of my hairstyle, but it clearly did not affect my performance in the bowling activity. Oh no, my friends, from humble beginnings I emerged as the frontrunner of the round with a score of 268! This, in spite of what my friend Tarah (she's the one next to me in the photo) warned would spell my downfall – my attachment to winning: you see, after my first two miserable bowls, I had announced in desperation, "I am determined to not lose this damned game." Sadly, I was not to repeat this win in the subsequent baseball or tennis competitions.
Winning and losing, gain and loss; the inevitable polarities of life. The truth was, I really didn't care if I won or lost and thus enjoyed the whole experience. It was, of course, just a game. If only it were as easy to experience each moment of life's richness with the same abandon…it was a lot of fun! A good reminder.